Smitty's RV and Welding!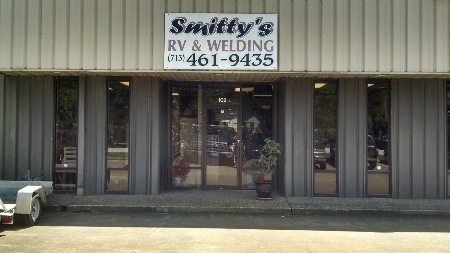 Welcome to Smitty's

Your Tow Bar & Brake System Specialists

Smitty's is dedicated to providing for your towing and welding needs. Whether it's a last minute vacation that you need a car outfitted with a towbar, or you need tow brakes added to your tow bar package, at Smitty's we can fabricate it. Smaller jobs are not a problem. We specialize in custom tow bar and Dinghy Brake applications.

Smitty's also carries a full line of Motorcycle Lifts Including HydraLift and CruiserLift. Custom installation is available to adapt motorcycle lifts for 5th wheel trailers and hard to fit motorhomes.

Smitty's is your one stop shop for all your towbar, brake system, motorcycle lift, and welding needs. We have been serving the towing community for over 30 years and take pride in the outstanding reputation we have earned. Give us a call or come by to see our services in person.
*NOTICE*
If you are having issues contacting us through your Sprint phone, please call our toll-free number at 1-866-424-2627